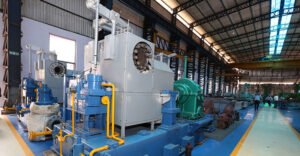 Chola Turbo Machinery International has been providing customized, durable, reliable, and efficient steam turbine solutions for over 20 years. Leading industrial steam turbine manufacturer CTMI has completed a number of projects both in India and overseas. In more than 37 countries, from USA to FIJI islands, several steam turbines manufactured by Chola Turbo have been installed across all major industries.
Chola Turbo is proving to be a dependable and experienced partner for your industry as highlighted by repeat orders from both domestic and international customers because of our extensive experience, strength in design and ongoing improvement in ease of operation of our  steam turbines.
Our steam turbines are used to power generators, pumps, compressors, or as any other mechanical drives. From Nuclear power to municipal waste, CTMI turbines are present and delivering in all sectors imaginable like Sugar, Paper, Textiles, Fertilizers, Steel etc.
For global customers too CTMI provides prompt services. The devoted and knowledgeable service staff work professionally and aim for customer satisfaction. From remote assistance to on field presence CTMI has excelled in ensuring the customer needs are catered to when required.  The locations of our service centers currently include Bangalore, Pune, Delhi, and Kolkata in India, Mexico City(Mexico) , Bogota, and Cali(Colombia)  in Latin America, Brno ( Czech Republic) Istanbul (Turkey) and  Perugia (Italy) in Europe, and Bangkok (Thailand) in South East Asia .
CTMI also excels at reconditioning turbines of all significant manufacturers and has a proven track record in this area of efficiency improvement. As a trusted company we focus on producing goods, we also provide a variety of turbine-related products to increase your productivity.  Our core products include:
API Turbine
Back Pressure Turbine
Condensing Turbine
Extraction Condensing Turbine
PRV/PRDS Replacement Solutions
Forced Lubrication System
Geothermal Steam Turbine
Our Services
With a highly qualified workforce and OEM(Original equipment manufacturer) knowledge, Chola Turbo has developed an unequaled service capacity that allows it to offer a wide range of tailored service solutions across numerous industry segments. Our goal is to provide our customers with complete satisfaction and peace of mind at the end of the day. Our wide range of services Include:
Installation & start-up of new Steam Turbines
Turbine spares and servicing
Troubleshooting and overhauling
Component repairs and remanufacturing solutions
Re-engineering for efficiency enhancement
Refurbishing and modification of steam path
Steam turbine up-gradation
Dismantling and relocation assistance
Governor retrofitting solutions
Annual maintenance contracts
Expert services during erection and commissioning